Midtown demands action from mayor, officials amid recent crimes | News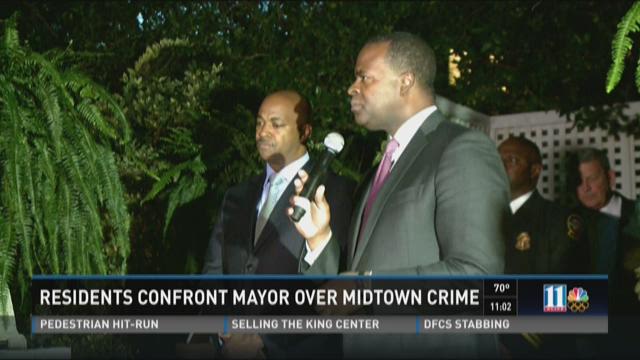 ATLANTA -- They had already dealt with the car break-ins and sidewalk attacks but for an Atlanta community, a mother being held at gunpoint was the final straw.
On Wednesday night, dozens of Midtown residents vowed to make their homes safer and confronted Mayor Kasim Reed about recent crime.
Neighbors learned that the criminals preying on their community are young, clever – and violent.
They also learned that some are likely to have been in and out of jail a dozen times each.
"A young guy came around the corner with a gun up in my face," one resident said. "He said get down on the ground. He took my purse off my shoulder and I got down and screamed but I got down on the ground."
It was that robbery in broad daylight on Saturday that prompted the backyard summit on Wednesday where neighbors in Midtown vowed to fight back - even if they had to patrol the streets themselves to push back against the violent crime that's been moving in.
"I've watched a man stabbed; I've watched two people have their car jacked," a resident said.
While this was not a bash-the-police party, it was a call for the city officials on-hand – including the mayor – to understand what residents are dealing with.
The police promised to pour resources into the neighborhood but told residents that crime is actually down while, at the same time, acknowledging that the recent spike in violence is troubling.
"The good thing is we are not broke so we will spend what it takes to achieve the appropriate level of public safety in the city of Atlanta," Mayor Reed said.
That means added patrols, upgrading streetlights, integrating surveillance cameras and other measures to make it safe to walk in the neighborhood again.
But her hope was tempered by a fear of the current reality.
"And there's the other side of me that's scared to take the trash out," she said.
It's clear that the criminals are patrolling these streets with scary, police-like, efficiency.
But it's also clear, according to police, that that's about to change.