Police release video and sketch in two Midtown carjackings | News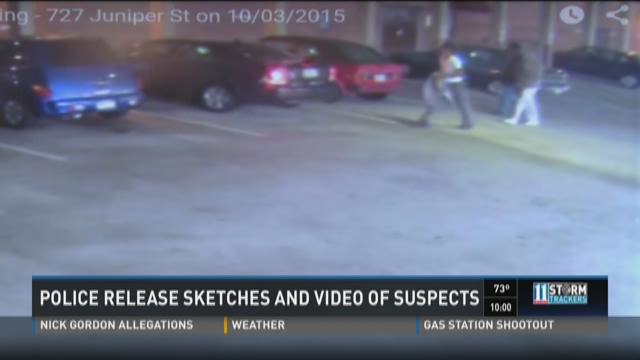 ATLANTA -- Police have new information that may help them identify three suspects who have created panic in a Midtown neighborhood. They are wanted for two armed carjackings.
The two crimes were the subject of neighborhood meeting in Midtown that was attended by Mayor Kasim Reed. After the meeting Crime Stoppers Atlanta offered a $25,000 reward. But now police have faces to put with the suspects.
At a news conference at police headquarters sketches were released of two of the suspects. All three were also captured on surveillance video from one of the violent crimes.
The two robberies and attempted carjackings happened within minutes of each other, according to Maj. Paul Guerrucci. The first crime happened at about 3PM on October 3, 2015. A woman was approached by three suspects in front of her house on Charles Allen Street as she was getting her 7-year old daughter out of her car.
The woman talked to 11 Alive News at the neighborhood meeting Wednesday, but did not want her name used. A young guy came around the corner with a gun up in my face and said get down on the ground," the victim said. "He took my purse off my shoulder."
Police said the suspects ran before taking the woman's car. "The victim's husband came out of the house, disrupted the robbery and those three individuals fled the scene without taking the car," Guerrucci said. "It was a carjacking attempt."
The suspects apparently still wanted a car. Within ten to fifteen minutes they were seen on surveillance video in the parking lot of Lutheran Towers on Juniper Street. It's about three blocks from the previous carjacking attempt.
Police said the three followed a 71-year-old woman as she parked her car. The video shows the three suspects approach the woman's car. Guerrucci said they pulled out a gun and stole her car.
"There is a $25,000 reward for information identifying the persons responsible for these robberies," Guerrucci said.
Major Guerrucci said there is no indication the two carjackings are connected to a recent series of commercial robberies in Atlanta.
Call Crime Stoppers at 404-577-TIPS(8477)
You can follow Kevin on Twitter @krowson11alive and like him on Facebook