Part of the Landscape: Detangling prostitution from Midtown Atlanta | News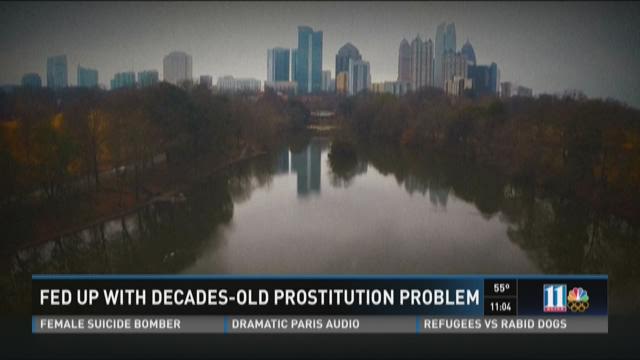 When it comes to Atlanta's popular in-town neighborhoods, it doesn't get more "in town" than Midtown. So when violent crime suddenly spiked a couple of months ago, the city responded immediately with neighborhood summits attended by police, city council members and even the mayor.
Indeed, before the meeting was over, plans were in place to hit crime head-on.
Or most of it.
But there was one crime neighbors were not confident the city could handle - a problem that police admit is decades old. 
"[There's a] hotbed of prostitution on the corner on which I live," said one resident. "We know where it's happening, who's doing it, when it happens and what they've been doing. And there's been nothing to change it."
Prostitution in Midtown Atlanta has become so deeply entrenched that many residents said they've just chosen to live with it. But for many others, enough is enough and they're demanding immediate action to end the crime once and for all. Yet the city of Atlanta has been stymied at every turn trying to end it.
It's 10 p.m. and it's time for the third shift in Atlanta's industry of vice to punch in for work.
For the next nine hours, the streets in the one-mile by one-mile square around 4th and Piedmont will belong to the hookers looking for johns who are looking for them. 
"It's one of those things that you have to keep an eye out for," said one resident, who spoke on condition of anonymity. "You do keep an eye out for it left and right, because you don't want to get in any kind of situation."
Many of those "situations" happen in plain sight. On one November night during preparation for this story, a man tried to solicit a streetwalker right in front of 11Alive News' cameras. Cameras captured him as he followed the woman with his lights off while driving the wrong direction down a one-way street, until he finally gets her in the car.
It's a scene that another resident said plays out every day somewhere in Midtown.
"Midtown has changed over the years," she said anonymously. "So we're talking about moms and dads who are walking their kids to the bus stop who have to explain the people they see on the street corner."
But what no one can figure out is exactly why the prostitution here became so endemic that it is now just part of the landscape.
"Prostitution in Midtown has historically been there for over 30 years," said Atlanta Police Maj. Scott Kreher. "We at APD take that very seriously; it's a quality of life issue for the residents in that area."
The commander of Zone 5, Midtown, met with residents one evening for a flashlight walk through the neighborhood. But he's no stranger here. Kreher is what some would call a cop's cop who's worked the streets with the vice unit. Along the way, he's learned that police cannot simply arrest the problem away.
"We have to think what else can we do besides making arrests," Kreher said. "I think one of the things we want to look at is bringing in outside resources to address the underlying social problems that these people are having to force them to stand on a street corner and solicit for money."
Other parts of Atlanta that have had similar problems with prostitution went so far as to re-brand themselves like old Stewart Avenue and Bankhead Highway. But that hasn't happened in Midtown and likely won't.
Some community leaders have created laws to get results. Atlanta City Councilman Kwanza Hall used legislation to expand the anti-cruising laws in the area to target johns.
"We've got to make sure that they know this isn't the place to do it -- in people's yards, on their front steps, around their cars -- or any of the other violent activity that we've seen that's been occurring in the community," he said.
But Hall, like Kreher, believes that more needs to be done on the social services side.
"There are some people who are caught up in the predicament of prostitution like they are and they need support," he said.