Officials: Teen hit while riding bike in Midtown dies | News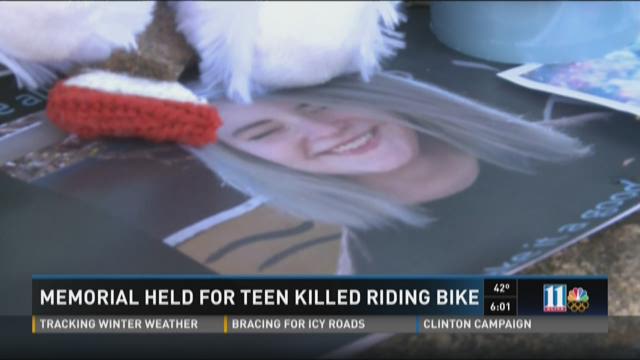 ATLANTA — A teenage girl who was hit while riding her bicycle in Midtown on Thursday has died, according to the Fulton County Medical Examiner. 
The girl, 14-year-old Grady High School student Alex Hyneman, was pronounced dead just before 3 p.m. Friday.
According to a preliminary report of the incident, obtained by 11Alive News, Atlanta Police officers responded to the intersection of 10th St. and Monore Dr. just after 9:00 p.m. on Thursday.
The driver that hit Hyneman told police he was driving northbound on Monroe and had stopped at a red light. He says, when the light turned green, he started driving through the intersection and did not see the the teen "dart into the intersection." A witness seems to contradict that statement, telling police the light on Monroe was still red at the time of the collision. But she also told police she saw the bike "dart into traffic." 
Hyneman was transported to Grady Memorial Hospital with severe head trauma, where she later died. 
PHOTOS | Memorial for Grady HS student hit by car
In a statement, Atlanta Public Schools officials said their "thoughts and prayers are with her family during this difficult time." They will be offering grief counseling to students when classes resume Wednesday, after the President's Day holiday. 
Alex is being mourned by family and friends alike. In a brief email to 11Alive News, her mother Marla said how amazing she was: "She really had the most amazing voice and love to sing," she said.
Saturday, family, friends and fellow students met at a Starbucks near the intersection where Alex was hit. According to her mother, the location was a place Alex and her friends like to go after school. They then walked to a spot near where the accident happened for a small memorial.
PHOTOS | Grady High School student Alex Hyneman
"I will mark the day that she died, and make sure that I try my best to visit this spot every year," said friend Abby Hebert.
People left pictures, flowers, and other items to remember Alex. They then shared stories, tear, and even some laughter.
"My daughter she was brave and beautiful, ambitious. She brightened the life of everyone she knew," said Marla Hyneman. "The fact that she touched so many lives is exactly what my daughter was about."
Later during the week, on Wednesday, Hyneman's mother says the school will honor Alex by wearing drawn-on whiskers, as she often did because of her favorite television show.
Atlanta Public Schools says its crisis team will be available for students and staff when they return to class Wednesday.
OTHER NEWS

Community and police pay tribute to fallen officer