Suspect turns traffic violation into police chase, wreck | News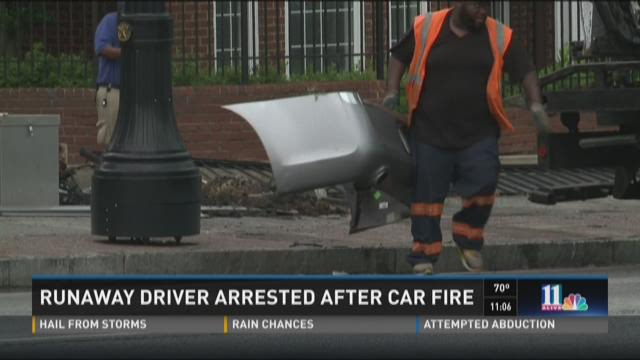 ATLANTA -- Police say a suspect's attempt to flee from police has likely turned a routine traffic violation into a long list of violations - both misdemeanor and felony.
A police spokesperson said Dimetrius Smith was initially being stopped for failing to use a turn signal.
But instead of pulling over for the blue lights in his mirror, police said the suspect fled from them in a high speed vehicle chase that ended abruptly at 1660 Peachtree Apartments where the suspect crashed before running away from the scene on foot.
Police said he left his vehicle in flames at the Midtown-Buckhead line and temporarily evaded arrest. But that didn't last long.
As Atlanta Police Department's Public Information Officer Ralph Woolfolk was updating media on the situation, he and other officers got an alert that the suspect was just around the corner.
Woolfolk then ran to the location where he and others successfully apprehended the suspect.
Later police learned Smith was driving on a suspended license.
Now the suspect, who was originally facing a traffic infraction is charged with Gore Violation, Improper Lane Change, Driving on a Suspended License, No License on Person, Driving in the Emergency Lane, Reckless Driving, Flee and Eluding, Too Fast For Conditions, Failure to Maintain Lane, Hit and Run-Leaving the Scene, Striking a Fixed Object, Obstruction, and Criminal Damage to Property 1st degree.