APS student among Midtown shooting victims | News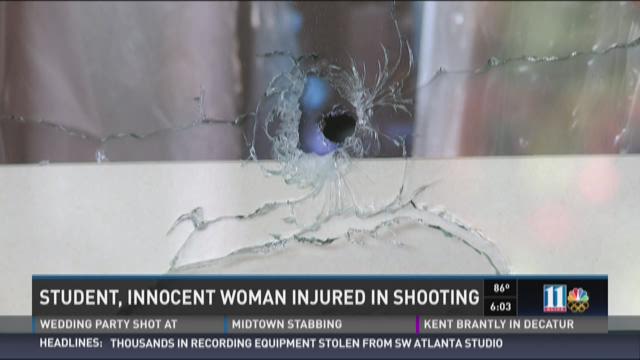 ATLANTA (WXIA) -- Atlanta Police confirm that one of two people shot in Midtown Friday night was an Atlanta Public Schools student.
The shooting happened at the intersection of 8th Street and Monroe Drive, near the Grady High School football stadium.
Keiunte Wallace, 18, was shot in the back and taken to Grady Memorial Hospital in critical condition.
The second victim, 45-year-old Yu Xuejing, was struck twice as she drove her car through the intersection. Police said she was grazed on the head by a bullet, and struck in the ankle by another shot. Police said Xuejing was not connected to the incident, calling her an innocent bystander. She was taken to Atlanta Medical Center in stable condition.
According to a narrative from Atlanta Police, Wallace was leaving Grady/Carver football game Friday night, when he and a group were approached by another group of young men. After a verbal altercation, someone from the second group pulled guns and began shooting. Wallace said he ran away and did not realize he had been shot until he entered a nearby restaurant.
Police are looking for four to five suspects in this shooting.
Adam Collins runs Sig Samuels, a dry cleaning business near the location of the shooting, says he noticed several bullet holes when he arrived at work Saturday morning.
"A bullet had come through the front of the window and went through the wall and broke my picture frame," he said. "Luckily no body was in here last night, my folks had already gone home."  
The business quickly called someone out to repair the damage, but they are also concerned about those injured.
"Everybody's safety and well-being is first and foremost," said Collins.
Atlanta Public Schools responded to the incident saying "Our thoughts are with the student and family in hopes of a speedy recovery. The safety of all our students is a priority for us."
The district further commented on security at athletic events with a second statement.  
"Atlanta Public Schools is working with the Atlanta Police Department to ensure the safety of our stadiums this weekend in an abundance of caution while APD continues its investigation into the midtown shooting incident. At this time, APS has not been given any indication from APD that this unfortunate incident is connected to our football activities. APS is always reviewing its safety procedures to ensure that the district is maintaining a safe environment for students and employees."