Sir Elton John delivers 25 millionth meal for Atlanta organization | News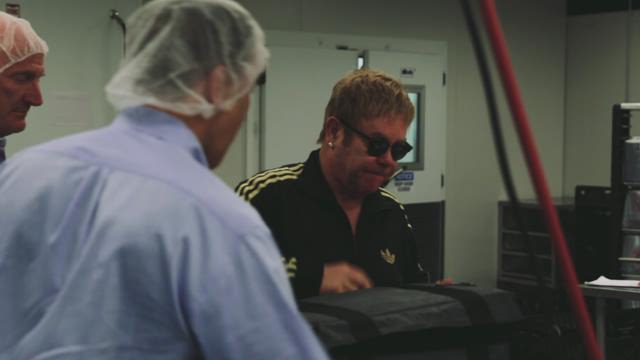 ATLANTA -- Midtown resident Craig Gustafson was reasonably prepared for last weekend's gnarled traffic and streaming crowds of people flooding his neighborhood for Music Midtown.
But he was a little worried that the caring Open Hand Atlanta volunteer who typically delivers his weekend meals might have a hard time reaching his apartment.
So not only was he extremely relieved when his doorbell rang on Friday afternoon, but he was utterly speechless to find that the Open Hand volunteer delivering his meals was none other than the "Rocket Man" himself, Sir Elton John.
"What an honor," Gustafson said. "He's been fighting for this cause for years and he's beyond a celebrity - he's an icon to us."
The surprise delivery marked another landmark milestone – the 25 millionth meal served – for Open Hand Atlanta, a local nonprofit nutrition agency founded in 1988 to serve those disenfranchised by AIDS.
Sir Elton John, a part-time Atlanta resident and passionate HIV/AIDS advocate, was originally drawn to Open Hand Atlanta's mission as a volunteer in the early 90's, and he has remained an avid supporter, delivering the agency's one millionth meal, granting funds through the Elton John AIDS Foundation, and personally contributing to Open Hand's recent capital expansion project.
Sir Elton, who performed at the Music Midtown festival later that same night, announced to the thousands of devoted fans on hand that it was good to be back in Atlanta - his "American home". He added that he was proud to have been able to deliver Open Hand's 25 millionth meal earlier in the day.
Open Hand Atlanta, formerly known as Project Open Hand, was born in a small church kitchen – a compassionate response to the AIDS crisis led by founder Michael Edwards and a handful of close friends. Today, Open Hand remains the primary source of nutrition services for people in metro-Atlanta living with HIV/AIDS even as the agency has expanded its mission to include homebound seniors and individuals living with or at risk for a variety of chronic diseases, including diabetes, cancer, heart and kidney disease.
 "The work we do every day serves as a profound example of what is possible when a community comes together to help our friends and neighbors in need," stated Matthew Pieper, Open Hand Atlanta's Executive Director. "To serve our 25 millionth meal after 27 years of service is a very proud moment for all our dedicated volunteers and staff. There's a lot of love that stands behind each and every one of those meals." 
RELATED | Photos from music midtown: