Robbers threaten Midtown mom with gun in front of her kids | News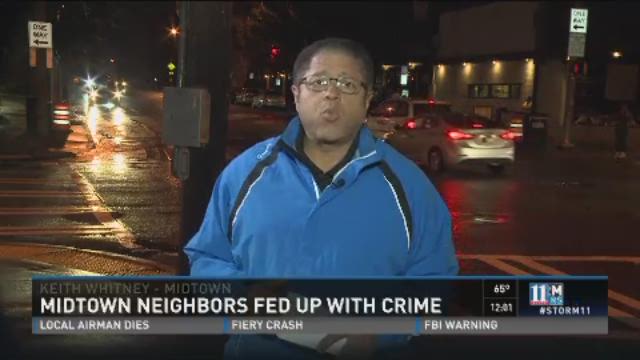 ATLANTA -- Residents say one of the reasons they moved to Midtown is the ability to walk where ever you want to go. But these days, for many, walking here is simply too big a risk.
To be sure, petty crime has never been a stranger to the area. But now, major crime seems to be moving in to one of Atlanta's most popular communities, where, suddenly, neighbors are holding onto their kids tighter and staying off the streets more.
"Just in the last few weeks we've had cars raised and put on bricks with tires stolen," recounts resident Martin Kemp. "Two nights ago we had an incident around the corner, a young couple coming home from just a cocktail in Virginia Highlands, and they were held up at gunpoint on their front steps."
And then Saturday, another violent confrontation… this time in broad daylight. A young mother had a gun put to her face, right in front of her small children.
"We saw the three thugs, and my husband said immediately text the neighbor," said resident Elizabeth Alford. "He said they looked like they were up to no good, so I did (text the neighbor.) Seventeen minutes later, the neighbor called me and said she watched the whole thing. They held the gun to the lady's face."
Atlanta police say the three suspects are still on the loose as of this report. Alford's family is just one of many in this area that have had close brushes with crime and bold suspects who weren't afraid to be seen.
"The APD really needs to get on this," she said. "We need to get all the public officials involved; they need to watch this neighborhood better. This is terrible."
With dozens upon dozens of car break-ins recently and a shooting that injured two people outside the Grady High School stadium, the community is coming together this Wednesday night to talk about taking their streets back.
"Now, we're seeing a lot of gun activity in daylight and in the evening," said Kemp who will hold the meeting. "It's turned absolutely unacceptable, and we don't seem to be seeing much help from the city. So now, it's time for the residents to get involved themselves."
The neighbors say it's too simple to just blame the police. They say city officials and judges need to be held accountable as well for what they see as a revolving door of justice, that's putting criminals back on their streets.